In-patient Services and Wards

Safety instructions for hospitalization
In-patient Services and Wards
Parkway Shanghai Hospital provides patients with inpatient wards designed for recovery in a comfortable surrounding. The star-rated hotel design and management, large private space, and medical equipment ensure patients a better quality of recovery during their stay.

Various types of high-quality wards: single/double ward/VIP suite (37/74/97 square meters)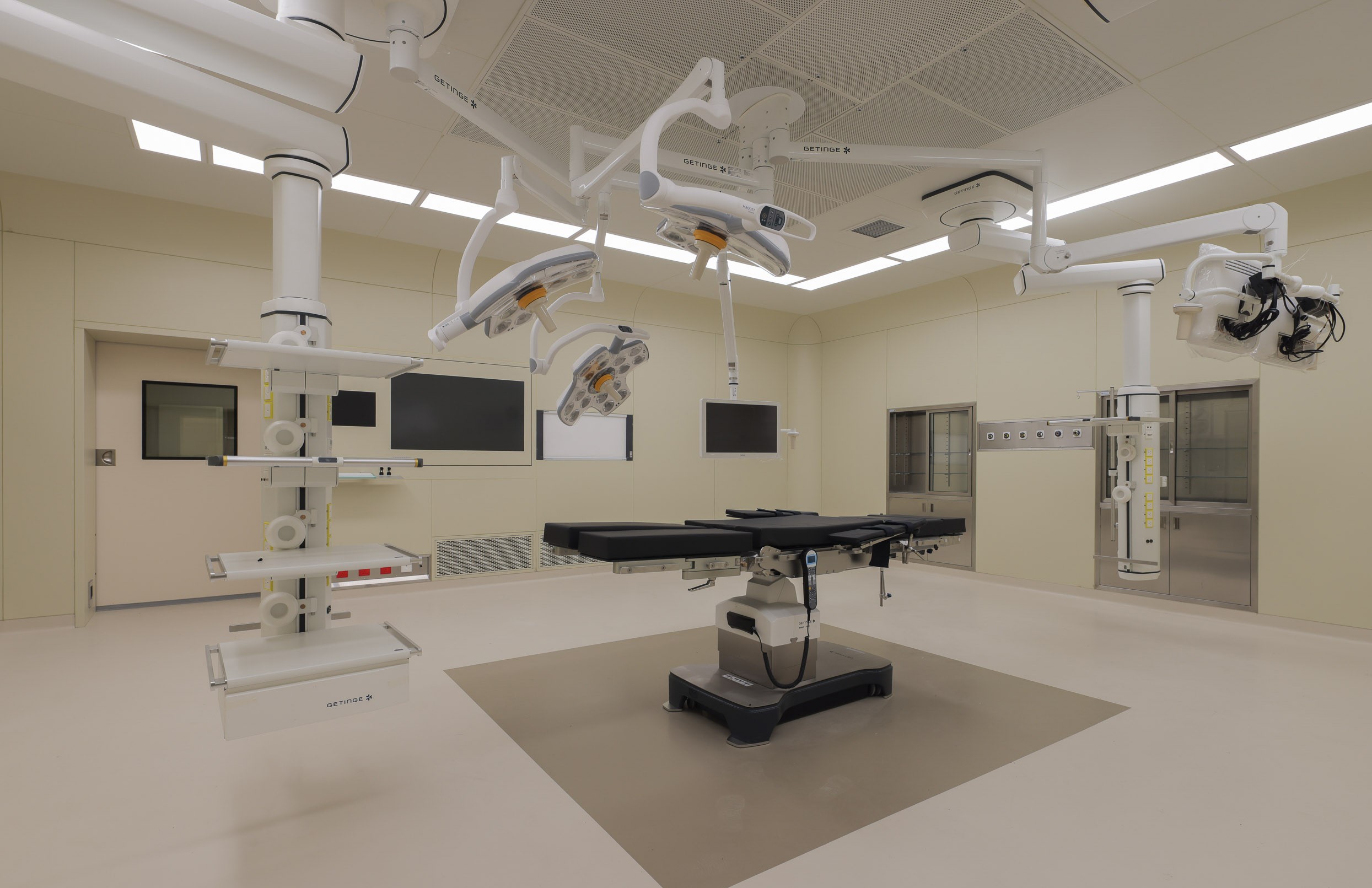 Located in the center of the Hospital, connected with other related departments, and equipped with:
Central clean corridor to ensure instruments are safe and sterile;

Intelligent medicine, which is connected to the hospital information system (HIS); Both the fingerprint and ID will be checked to ensure the accuracy of medicine collection and dispensing;

PACU is equipped with IntelliVue MX400 monitors, a central oxygen supply, and a negative pressure suction system to monitor the condition of postoperative patients.
For the convenience of our patients, bedside telephones are available in all our wards.
For local calls, please dial 9 followed by the number you wish to call.
For international calls, please dial 9 followed by 019 or 001 (IDD Access Code) + Country Code + Area Code + Number of the party you wish to call.
Please be informed that all outgoing calls are chargeable and will be included in your final bill.
TV
Your room is equipped with in-house entertainment system that allows you to access free-to-air television channels and a wide selection of movie, variety, entertainment, sports and news channels on cable.
Internet Access and Online Gaming
From our in-house entertainment system, you'll be able to access the Internet and whether it's catching up with the news, playing interactive games, watching videos or relaxing with an online library full of books, you'll be in full control of how you spend your time.
At our Hospital, we ensure your meals supplement the healthcare you receive while also delivering a pleasant culinary experience.
Our culinary and dietetic team's menus provide five nourishing, well-balanced meals each day to support your recovery. Our chefs will even create a menu for you based on your physician's dietary recommendations.(applicable)
Meal Times
Breakfast: 8am – 10am
Lunch: 12pm – 2pm
Dinner: 5.30pm – 7.30pm
Housekeeping
Your room will be cleaned daily by a member of the housekeeping team. Please inform our nursing staff if you have concerns about any aspect of the housekeeping service.
The housekeeping office is open daily from 8.30am – 5.30pm
Newspaper
A complimentary copy of the local newspaper will be delivered to your room daily.
Room Safe
You'll find a safe in your room where you can safely store your personal belongings.
However, we advise you not to bring any valuables with you during your hospital stay. Parkway Shanghai Hospital will not be responsible for any loss of or damage to patients'/visitors' personal items on the hospital's premises.
Laundry Service
You may wish to have your clothes washed, pressed or dry-cleaned during your stay. Just let our ward staff know and this will be arranged for you.
Available daily: 8.30am – 5.30pm
[Charges applicable]
Maintenance Requests
All electrical lights and fittings should be in good working order in your room. If you find that anything is faulty, please let our ward staff know so we can get it repaired.
Security
Your safety and security are our utmost priority. Our in-house security provides 24-hour coverage, both on patrol and through constant monitoring of public areas through closed circuit surveillance equipment.
Should you have any concerns, please contact our ward staff for assistance.
Fire Safety
The hospital has an automatic fire alarm system. When the fire alarm is activated, alarm bells will ring on all floors. Should there be a fire in your room, please call extension XXX, leave your room, closing the door behind you to prevent the fire from spreading and to slow down the diffusion of smoke and fumes. Please remain calm and stand by for further announcements or instructions from the ward staff.
No Smoking
Smoking is prohibited by law throughout the hospital complex.
For your safety and convenience, there is a nurse call bell within easy reach at your bedside which can be used to connect with our nurses 24 hours a day. There is also a call bell in the bathroom. Please contact us at any time if you require assistance. Our nurses and medical assistants will gladly assist you.

We welcome you to join us and feel free to ask any questions you may have about diagnosis, treatment and time of discharge.
Safety instructions for hospitalization
Patient wristband:Your ID wristband contains your name, ward, and admission number printed on it. Please wear it at all times during your stay, and do not remove it. Please contact our nurses if your wristband falls off or is damaged.
During your hospital stay, please take only the medicine given by our nurses, and take it as soon as it is dispensed. It is important for nurses – who are in a uniform with the dispensing logo – to accurately dispense the medicine for you at the nominated dispensing times. If you need help during the dispensing period, please contact another nurse.
1. Pain may have a significant impact on patients. It can be felt, described, measured, and treated.
2. Notify our doctors and nurses if you are in pain before it becomes unbearable. It is far easier to prevent mild pain from worsening than it is to relieve severe pain.
Please keep the bathroom dry and clean to avoid infections.
Before entering the ward, please put your cell phone on silent to avoid disturbing other patients. Do not use cell phones in the ICU as they may interfere with medical equipment. To enter these areas, please turn off your phone first.
Do not lean on any furniture in the room, as most of it is not stable enough to support your full weight when you're weak or unwell.
Do not get out of or sit in a wheelchair without assistance.
Do not get up and leave on your own if your bed rail is put up or you have been prescribed bed rest. Please request assistance in getting out of your bed.
Do not remove or change the settings of any medical equipment without the approval of a nurse.
1 in 3 elderly people over 65 suffers a fall each year, and such risk increases with age. It is critical to prevent falls by avoiding situations where you're exposed to the risk of falling. The following precautions are key to preventing falls:
1. Do not climb over bed rails.
2. Do not lower bed rails without permission.
3. Do not leave your bed unattended.
4. Do not attempt to stand on wheelchair footrests, which are likely to flip over.
5. Do not attempt to pick up items that are out of your reach.
6. Use the call bell to ask a nurse for help in the above circumstances.
7. When you feel dizzy and weak but need to use the toilet, use the call bell for help.
8. When you wish to sit up or get out of bed, adjust your position slowly to prevent a sudden drop in blood pressure.
9. Eat enough food to meet your nutritional needs.
10. Wear suitable shoes and non-slip socks.
Visitors can be a big help for a patient's recovery. However, to ensure that you and other patients are adequately rested and recovered, visitors are asked to follow the visitor guidelines.
If you do not wish to be visited, please inform our ward staff.
Daily visiting hours are from 8 a.m. to 8 p.m.
No more than two visitors are allowed per visit.
Please advise your visitors not to bring children under the age of seven. For the sake of safety and preventing nosocomial infections, do not bring any child under the age of 12 into the ICU, unless he/she is your children or grandchildren, in which an exception can be made.
Take no photos or videos during the visit to protect patients' privacy.
To prevent the spread of bacteria and viruses in the hospital, visitors are advised to wash their hands following the 7 steps of hand washing, or to disinfect with alcohol before and after entering the ward.
Your physician will advise you to be discharged when appropriate.
As part of the entire patient care process, our nurses will work with you and your family to develop a post-discharge plan, and teach you and your family simple nursing procedures.
Before leaving the hospital, please check you have the following important items:
(1) A discharge summary or discharge certificate
(2) A nursing plan/guidelines for ongoing treatment
(3) Appointment for follow-up visits in specialized outpatient departments
(4) Drugs and drug use instructions
For your safety, you are advised to be discharged in the company of a family member or friend.
If you are going home alone, tell your nurse, who will help you schedule a ride home.